It's Not Living if it's Not With You: Growing up with The 1975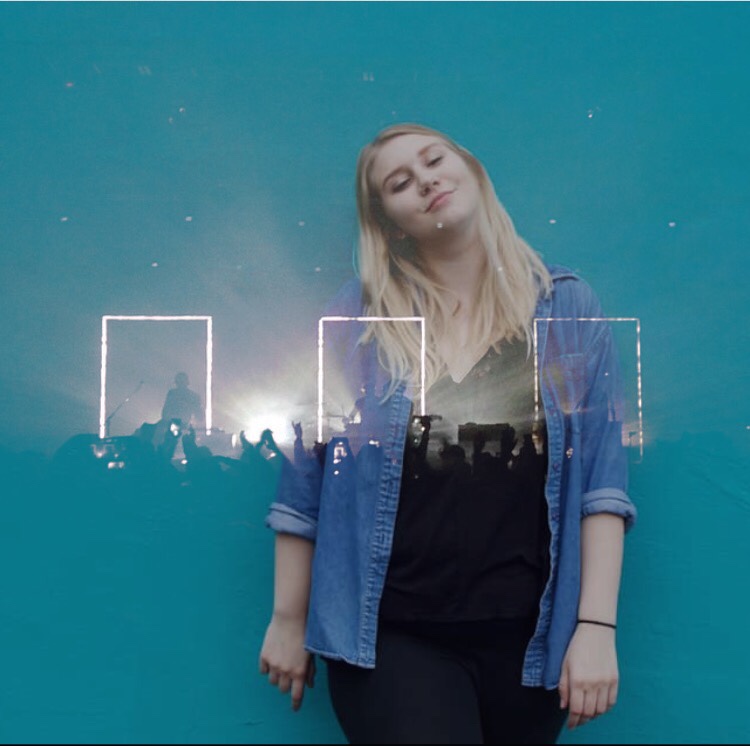 It'S not living if iT's noT with you
The first time I saw The 1975 was in 2013 as a bright-eyed 16-year-old. I must have paid $20 for the show, a ticket price that I would be envious of years later when the band had blown up and booked venues like Madison Square Garden. It was a show with MS MR and twenty one pilots, and is probably to this day the best $20 I have ever spent. It was at a beautiful venue in Richmond (it's sort of a funny story; I confused Richmond with Alexandria and ended up driving a lot more hours than intended, but I digress.) The venue was mid-size, standing room only on the floor level. I stood amongst the swarms of post-scene kids, anticipating seeing our favorite bands live as "Buzzcut Season" played in the background (this was the era of a recently-discovered Lorde and tumblr.)
I'll never forget the way I felt when I first saw that big neon frame light up, and the band walking onto the smoke-filled stage. Matty Healy was wearing a black trench coat (naturally) and George, the drummer, had on a shirt that simply said "COCAINE." I think this is exactly what people picture when they think of The 1975. For a while, this was their brand. Sex. Drugs. Rock and roll. The song names from their self-titled album illustrate this: "Sex," "Girls," "Robbers." You get the idea. Perhaps it was because of this that so many people scoffed at (and continue to scoff at) The 1975. But I never understood it. Healy's lyricism always mystified me; I just could never put my finger on why. So many lyrics by The 1975 got stuck in my head, and would stay there for days, setting my adolescent heart on fire.
I know you're looking for salvation in the secular age, but girl I'm not your saviour.
It would be years later, after semesters of poetry classes that taught my brain how to dissect good writing, that I would begin to understand why I could not get these songs – and this band – out of my head. But even then, with my knowledge of alliteration and literary elements that make for good writing, there was still something intangible, something so magic about The 1975.
Throughout high school, my life's soundtrack consisted very heavily of The 1975. At this point, only their self-titled album and old EPs were out, so I spent a lot of time with these, memorizing every word. I stared out rainy schoolbus windows, dreaming of a life in NYC while "The City" echoed through my headphones. I angsted over some lacrosse boy in my room and blasted "fallingforyou." I don't wanna be your friend / I wanna kiss your neck. The songs became ingrained in my very being, the lyrics a part of my teenage DNA. While in high school, I must have seen the band at least two or three more times, and every show seemed better than the last.
Time went on and I graduated high school. Matty Healy grew out his hair, and cut it all off. I went off to college. The band released another album, "I Like it When You Sleep, for You Are So Beautiful Yet so Unaware of It." Presidents changed, and the world changed. The band changed with it. So did I. But there was always that one constant for me: Through all the bullshit, all the friends who came and went, all of life's darkest moments, there was always The 1975.
When the singles for ABIIOR dropped in 2018, it was clear that this was a new era for The 1975. Well, obviously. It was the Music For Cars era, as several music sites had reported. But it was more than that. With the release of "Love it if We Made It," it was as if the band was making a statement: they weren't the same 1975 that they were before. This was even more apparent with the release of the video, which featured clips of pretty much every terrible thing that has happened in recent times, particularly the year the song was released. The song felt like a declaration, the kind of protest song I wished other artists would release: Fuck your feelings; truth is only hearsay / We're just left to decay / Modernity has failed us.
They were ready to be blunt, bold, political. Of course, they still retained their highly identifiable sound; another single from ABIIOR, "It's Not Living (If It's Not With You)" sounds as if it came straight off of their self-titled album with its nostalgic synth and bright guitar hooks. Still, the track has a more timely, 2018-esque message: Distract my brain from the terrible news / It's not living if it's not with you.
But there was a noticeable shift in their music. This album was far more conceptual, far more deliberate than past albums. I don't want to label it a concept album, but that might be the best way to describe it. From a song narrated by Siri to a song that touches on gun control, The 1975 made their inquiry into online relationships, and more.
I think one of my friends said it best in a tweet when she wrote, "The 1975 are officially no longer categorized as a guilty pleasure." With ABIIOR, they had finally proven themselves to critics. But I did, and still do believe, that everyone caught on extremely late. I wish more people got to have the experience I had, growing up and coming into postmodern consciousness with the band, realizing that indeed, modernity has failed us
When I began listening to The 1975, I expected to grow up from teenager-dom and be faced with the things Matty sang about: relationships, drugs, death, etc. I did not anticipate a world where these things would all take a back-burner, where the things at the forefront of my mind would be questions about the future of our planet, human rights violations in my own country, if people would harass me online. This was not the world that their self-titled album prepared me for. I am still learning how to navigate that world. I think The 1975 are too. I can only hope that their forthcoming album, "Notes on a Conditional Form," provides some answers. If the rest of the album is anything like the album's first single, "The 1975," which features young climate change activist Greta Thunberg, we just might be in luck. And maybe one day, we'll get our shit together again and be able to regress back to the simpler things in life: sex, drugs, and rock and roll.
Essential 1975 Songs (in order of album releases, but no particular order)
You
Antichrist
Sex
Robbers
A Change of Heart
Somebody Else
The Sound
Give Yourself a Try
Love It If We Made It
Sincerity Is Scary
By Charlotte Smith