Throwback Thursday: What "Party in the U.S.A." Has Taught Me, Ten Years Later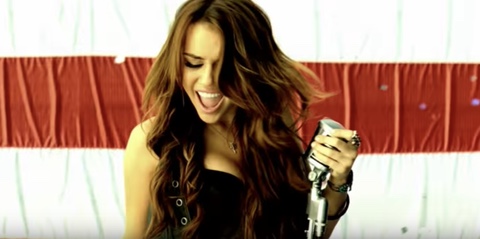 What "Party in the U.S.A." Has Taught Me, Ten Years Later
Ten years ago this week, on August 11, 2009, Miley Cyrus released the lead single from her first EP, The Time of Our Lives. While the title of the album might have rang true for teenage Miley, for twenty-one-year-old me, it did not. The following semester was my second to last before I'd earn my English degree, so I spent many hours that fall hunched over my desk at my parents' house, annotating Shakespeare plays as I tried to write something fresh about them. Only a few things could distract me from my laser focus on the end of my college career: anything I wasn't required to read for class, Words with Friends, and those moments when, in between paragraphs, I would plug in my headphones, cross my fingers that our new WiFi signal was strong enough to reach my bedroom, and click Play-- again-- on the music video for "Party in the U.S.A." To paraphrase one of Miley's later songs, I couldn't stop, and I wouldn't stop. At least one of the nearly seven hundred million views the video currently has on YouTube had to have come from me during that time.
It's important to note that, besides the essay-writing, all of the actions described in the previous paragraph were conducted with extraordinary shame. Miley Cyrus was a teenage American child star in 2009, and I knew that went pretty hard against the grain of my musical tastes: lots of British classic rock, Radiohead, and bands like Vampire Weekend who, at the time, I was pretty sure only I'd heard of. As it goes for many young adults, much of my identity was wrapped up in the kind of music I listened to and what I believed it "said" about me: that I was an old soul, that I was deep, that I took the time to seek out and appreciate the truly obscure. If anyone knew I was watching this, I would think to myself as I frantically untangled my headphone wires, I'd hurl myself out the window. After my embarrassment-fueled self-defenestration, I imagined, I'd stare up at the waving branches of my parents' cherry tree, my limbs askew on the manicured lawn, knowing that, after I died, my grieving family would have to tell mourners that the last thing I did in this life was "watch Billy Ray's kid-- the one on Hannah Montana-- sing that U.S.A. song on the Internet." At least I'd go out a true American.
But here's the thing: Despite the whole identity crisis, I still really liked the song! Miley Cyrus was obscure to no one; I couldn't flick through three stations on the radio without hearing her on two of them. But whenever I did, I had fun. "Party in the U.S.A." made me feel young (I was young but didn't know it then), hopeful, and free at a time when everything and almost everyone around me seemed very serious and in-flux. Graduating from college and entering the "real world" wasn't the same as starting a music career in Los Angeles, but I felt like Miley understood something of what I was going through, and that empathy (and also, that drum kick at the beginning, and just how damn fun it is) drew me back over and over. Miley proved that you could feel lost, homesick, and like everything is "all so crazy" while still looking beautiful in front of the American flag with your old-timey microphone. Still, I was embarrassed to share my passion with anyone other than my then-boyfriend and a few friends whose relationship with me cut through all the gravitas to something more intimate, substantial, and lasting.
I kept that serious schtick up for years. I graduated college, spent a year working in publishing, moved out of state, and started graduate school. Another fall semester came, and in September 2013, I found myself at the campus bar before class (it was a night class, okay?) with my closest friends in my cohort. As it goes at a bar, everyone's eyes were locked on the television screens floating above the rows of well liquor, all of which were playing Miley's video for her latest single, "Wrecking Ball." I sipped my beer in silence, preparing to nod along with other people's sneers as I planned to watch the video a billion times on YouTube after class. I still publicly believed then that Miley Cyrus was not someone worthy of critical discussion, and that it would say more (and worse) about me to suggest the opposite. But it turned out that my friends loved the video, loved Miley, loved her tears and her passion and her newly shaved head. These friends have taught me a lot over the years, but perhaps the most important is that your best friends will never make you feel remorse for your passions, no matter where they fall on the wild spectrum of pop culture.
In ten years, a lot has changed for Miley Cyrus: her musical aesthetic, her hairstyles, her romantic partners, among others. A lot has changed for me, too: I finished school again, got married, moved, started teaching, bought a house, had a daughter. But, as they say, the more things change, the more things stay the same: the friends with whom I let myself be honest about myself, both in college and in graduate school, are still my best friends now. The then-boyfriend who laughed with me over my YouTube browsing history is my husband. I no longer think a sheen of intellectualism and a lack of god-honest silliness makes me an attractive friend, wife, or parent. That all comes from self-acceptance and the unqualified acceptance of others.
My best birthday present this August was when my daughter, without prompting, "[put] her hands up" and "[nodded] her head like yeah" as we listened to "Party in the U.S.A." on the way home from her art class. The windows were down, the music loud, the gas pedal my kick drum. I sang with and loved her the whole way home.
By Erin McDaniel